Men suffering from erectile dysfunction will be interested in the results of recent research trials for the PT-141 peptide. The research was conducted to determine the effectiveness of PT-141 in erectile dysfunction.
In this article, we'll discuss the results of these research trials, including PT-141 dosage and side effects. We'll also show you why Paradigm Peptides is your best source for the PT-141 peptide.
Table of Contents
What Is Erectile Dysfunction?
Erectile dysfunction (ED) is defined as a man's inability to sustain an erection to complete a satisfying sexual activity. The chances of acquiring this condition increase as men age. Many companies are clamoring for a safe, effective way to treat erectile dysfunction. The PT-141 peptide is a cyclic heptapeptide melanocortin analog that's recently gone through clinical trials to determine its effectiveness as it relates to erectile dysfunction.
PT-141 Clinical Trials
PT-141 was administered through the nasal cavity of two groups of men. Group 1 consisted of healthy males. Group 2 contained ED patients who were responsive to Viagra. For the healthy men, no visual sexual stimulation (VSS) was provided, but it was used by the ED patients. [1]
PT-141 Research Results
In both groups, the erectile response to PT-141 was statistically significant compared to those subjects who had the placebo for doses greater than 7 mg, with the first erection beginning about 30 minutes after PT-141 was administered.
PT-141 Side Effects
PT-141 was administered safely and was well-tolerated by both groups. The most common PT-141 side effects were flushing and nausea, but there were no significant changes to the men's vital signs, ECGs, lab tests or physical exams.
PT-141 Research Conclusion
Based on its effectiveness and the minimal side effects it produced, PT-141 was determined to be a promising candidate for continued evaluation as a treatment for male erectile dysfunction.
Frequently Asked Questions About PT-141 Peptide
People have many questions about the PT-141 peptide. Following are answers to some of those questions. If your question hasn't been addressed here, feel free to contact us.
How Much Bacteriostatic Water to Mix With PT-141?
The proper PT-141 dosage is 1.75mg. Knowing how to properly mix your peptides is important. In the case of PT-141 peptide, add 1ml of bacteriostatic water.
How Often Can You Use PT-141?
PT-141 peptide treatment for erectile dysfunction must be prescribed and monitored by a doctor. Current studies indicate that individuals would need to limit their number of doses of PT-141 to eight per month.
Is PT-141 a Sexual Enhancer for Women?
PT-141 Bremelanotide has been FDA-approved as a treatment for hypoactive sexual desire disorder (HSDD) in premenopausal women.[2] This disorder is characterized by low sexual desire. Bremelanotide is administered by injection. The PT-141 dosage in female patients begins at .5mg. If you're wondering how often to take PT-141, most doctors recommend no more than once or twice a week.
Can I Use PT-141 Peptide Therapy With Other Treatments?
It's always best to speak with a medical professional to ensure any new product you wish to research will not interact with any treatments or medication you're already on.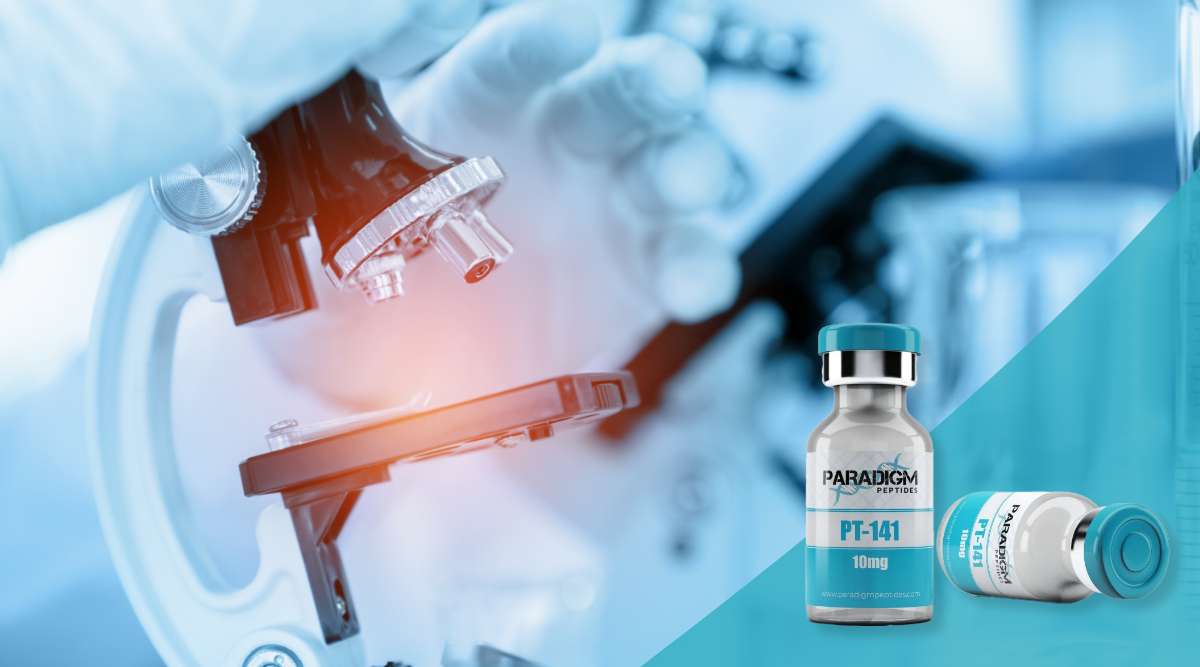 Paradigm Peptides Is Your Source for the PT-141 Peptide
At Paradigm Peptides, we have the PT-141 peptide for use in research, along with a wide selection of other peptide products. Our staff is experienced in the field of peptides and understands the importance of purity, authenticity and effectiveness in the products we offer. We continually strive to ensure you get the best quality products possible and great customer service every time. Get the PT-141 peptide you need for research and clinical trials at Paradigm Peptides today.
*DISCLAIMER: This product is not for human consumption under any capacity.
Research Resources & Citations: